Winter has arrived and it's a perfect time to knit a beautiful hat for yourself or someone you love as a gift for the holidays....there's still time! If a hat isn't what you're looking for, we have ideas for last minute gifts for everyone on your list. Come by the shop to look for beautiful yarn
Need A Hat? by
Cabin Fever
The weather has turned frigid this week and we are knitting hats! This fabulous book allows you to knit hats for all ages, all sizes, all gauges (tension), all weights of yarn...yes! Fourteen styles of hat includes toques, caps, flap caps and pillboxes. Plain, textured, fair isle and cables too. Beginner to intermediate levels. Something for every man, woman, child, infant, grandparent and friend that you have. You can knit some from the bottom up and some are knit from the top down. Even one with a cable knit sideways. All hats in the book can be knit in any size and in any gauge. Come by and pick up a copy of the booklet or wait for a new copy to arrive shortly.
Sandee was inspired to knit an ear flap hat for her grandson by a new customer that came intothe shop to knit her very first hat...an ear flap hat! The hat was knit out of
Louet Gems
.
Fiber Trend Felted Clogs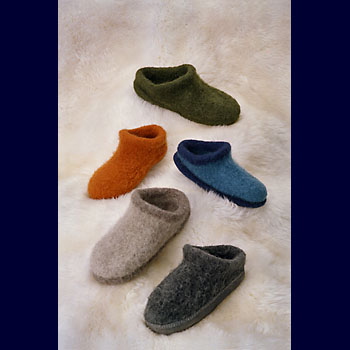 Fiber Trends Felted Clogs
This is a quick and fun pattern using a short row technique and double strand worsted weight yarn.
When: Saturday December 19th
Skill Level: Intermediate
Come by and pick out some yarn before the class if you can.
Our blog is back up and in full swing! We are hoping to keep you updated frequently with the latest happenings at the shop. This will include new yarn arrivals, new tools, accessories, books, patterns, photos of customer projects and of course all of our classes. Check back often to see what we're up to. We hope you can come by soon.